3 Weeks in Laos
Upon arrival in quiet, mellow Luang Prabang, the sun is shining and life seems to flow with a pace as languid as the Khan and Mekong rivers that serenely wind their way around the city center. The unhurried rhythm is contagious; a welcome contrast to the normal rush of everyday life. After a little time here, all stress begins to melt away, replaced with feelings of contented relaxation.
Designated a UNESCO World Heritage Site for its unique fusion of Lao and French colonial architecture, art and culture, and its harmonious blending with the green mountain landscape that encircles it, Luang Prabang is considered by some to be the most beautiful city in Southeast Asia. With a population just over 400,000, it's Laos' 4th largest city but draws the largest number of foreign visitors. It's one of the most peaceful cities you'll find on the planet, where tourists, locals, expats and orange-robed monks tranquilly coexist.
I spend a week in Luang Prabang basking in the slowness. Some mornings I wake up early for the 7:30am sunrise yoga flow class at Utopia, where we stretch and invigorate our muscles on a deck overlooking the river as the sun climbs above the horizon to dispel the chill of the cool morning air. I spend most days exploring a section of town on foot or by bicycle or motorbike, visiting temples and cafes and coffee shops, usually ending back at Sisavangvong Rd with its long stretch of market vendors offering fresh smoothies, sandwiches, crepes and rice dishes for 10,000 kip (just over $1), and enticing French colonial style sidewalk cafes and bakeries. Luang Prabang Bakery, with its tall iced cappuccinos, irresistible chocolate coconut balls and friendly staff was one of my favorites. Novelty Café serves scrumptious flaky almond croissants, while Sena Café was a very nice spot for lunch or dinner. The friendly staff at Tamarind Restaurant gave me a wonderful introduction to a variety of traditional Lao food. With their relaxed riverside atmospheres, Dyen Sabai and Utopia entice visitors to spend an hour or two of the warm afternoons lounging comfortably by the river with a good book.
Top row: Pretty obvious
Bottom row: Utopia; lunch at Dyen Sabai; river seaweed snacks (khai pan) at Dyen Sabai; herbal iced tea at Tamarind
Secret Pizza, an Italian pizzeria a 7 minute tuk tuk ride outside of town that opens only Tuesday and Friday nights, is unique must try experience, with delicious brick-oven baked thin crust pizza, salads and mouthwatering profiteroles in a peaceful open air setting.
The fresh fruit smoothies are the best thing at the morning market: two of my favorites are pineapple ginger and mango pineapple banana. (Planet-friendly tip: bring your one glass with you for smoothies - they use a horrifying amount of plastic and styrofoam at the markets here.) The Night Market also offers many tantalizing dishes: grilled meats and fish, stir fries, spring rolls, coconut pancakes, snake wine, snake whiskey and much more. (Yes – I did try the snake whiskey! Supposedly it's therapeutic.)
Above: Secret Pizza inviting ambiance and the efficient owners at work, the final result, therapeutic snake whiskey, reusable glass at the market, coconut pancakes, wares at the night market.
Around Luang Prabang are many natural treasures which you can easily arrange to visit with one of the many tour companies on Sisavangvong Road. Although the tours include a visit to the breathtaking Kuang Si waterfall, I opted to rent a motorbike and drive there early in the morning to avoid the crowds. These spectacular multi-tiered jade falls are definitely a must see while in the area. You can swim there – but the water is cold!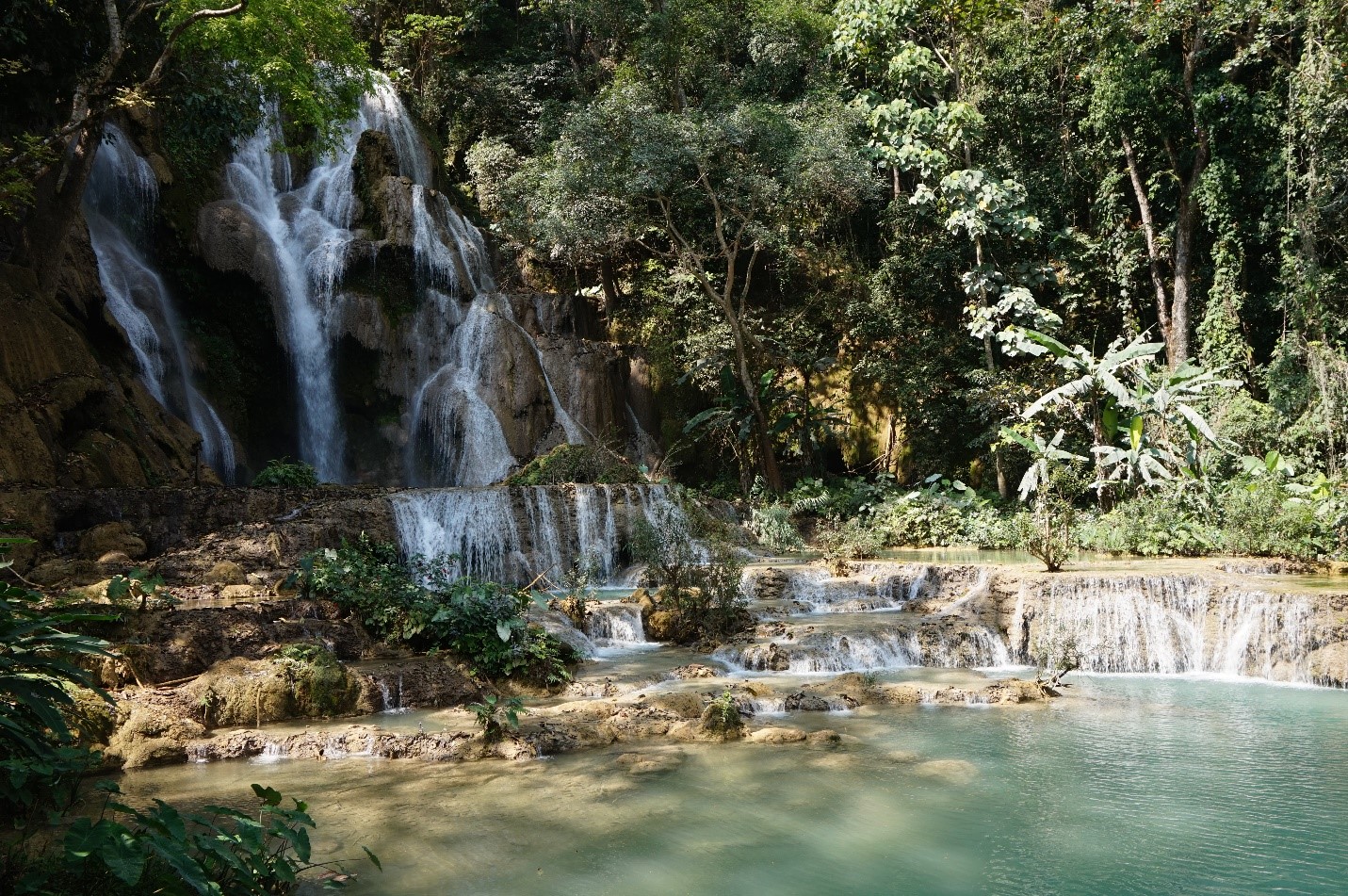 After a leisurely week in Luang Prabang, I take a minivan 3 hours north to the quiet village of Nong Khiaw. The minivan experience is an adventure in itself, where I learn that in Laos, public transportation cannot be taken for granted. By for granted I mean, don't assume just because you purchased a ticket that you will necessarily be given a seat.
I arrive at the station couple minutes before scheduled departure. Two vans headed to Nong Khiaw are there already filled with passengers, along with a 3rd van that's empty except for the driver.
The man in charge tells me to go to the 3rd empty van and he loads my luggage on top. Five minutes later, he moves my luggage over to the roof of the 2nd van and tells me to sit inside that one. I walk over to the van, which is completely full of passengers. "Whose lap am I supposed to sit on?" I ask. He shrugs, like, take your pick.
"I can't ride in here, it's full," I tell him.
"It's only 3 hours," he replies.
He's obviously lost his mind. I tell him no way.
He takes my luggage down and puts it back on the roof of the 3rd van, but for some reason none of the vans depart. During the following 20 minutes, he proceeds to move my luggage from one van roof to another no less than 5 times. Then, apparently bored of this fun workout, he brings me the amount of cash I paid for my ticket and tells me to go buy a ticket at the bus station.
I tell him in no uncertain terms absolutely not; I bought my ticket days in advance, he has three vans and three drivers here and he needs to stop wasting all of our time. He can move some other passengers over to the third van and we can get on our way.
Magically, my lecture works – combined with the timely arrival of one last passenger, who probably tipped the scales in favor of sending all 3 vans on the road instead of spending the rest of the afternoon at the station moving luggage from one van to another. He moves 2 additional passengers into the empty van and we finally set out. We also stop along the way to pick up 3 more people from the side of the road, so by the time we get to Nong Khiaw the vehicle is almost full.
(This kind of experience is common in Laos, other travelers tell me, so consider yourself forewarned!)
Once in Nong Khiaw, I enjoy a delicious meal with a view of the shimmering green river and tall green hills behind it at Riverside Hotel & Restaurant and a glass of wine and a massage to recover from the minivan ordeal. The next morning I wake up before the sun for a 5:30am hike to the Nong Khiaw view point. The challenging hike brings you to the top of a mountain with one of the most spectacular views I've ever seen, of an ocean of clouds punctuated by peaks of neighboring mountains. It's so beautiful it makes my heart ache.
You could easily spend a few more days exploring the surrounding area, but as my time was limited I continue on to Muang Ngoi, which can only be reached by an hour long boat ride. The boat is a traditional narrow wooden boat. The low wooden seats aren't comfortable by any stretch of the imagination but I love the ride. Gliding over the glassy green water past water buffalo, hillside scenery and carefree village kids playing in the water, I feel like a silent observer of times gone by.
The small village of Muang Ngoi is a casual, quirky, idyllic place: a little oasis for travelers craving peace and quiet. Electricity arrived here only a few years ago, but there are plenty of restaurants and guest houses catering to travelers. The unpaved main road is possibly the rockiest, practically undrivable road in all of Asia. I have the impression the locals have deliberately scattered large rocks across it to deter outsiders from settling here.
Bee Tree, an open air bar and restaurant at the far end of said rocky road, has tables and hammocks scattered across an open yard and bonfires that are lit when the nightly chill sets in. Their food is shockingly delicious – the carrot ginger smoothie and the pumpkin curry were nothing short of phenomenal, and their red table wine was very drinkable. (And the smoothie was served with a bamboo straw - kudos to them.) To enjoy a meal here in the fresh air, under the stars and with good conversation with fellow travelers is a true pleasure.
Above: rocky road (you see what I mean?); Muang Ngoi from the shore and from a view point
Above: relaxing riverside restaurant; Bee Tree carrot ginger smoothie, wine and fire.
I wrap up my tour of Laos with a few days in the relaxed capital of Vientiane, admiring the chiseled architectural jewels that unassumingly dot the city: ornate temples, Pha That Luang's giant reclining golden Buddha, the even larger reclining stone Buddha at Buddha Park and the regal Arc de Triomphe look alike Patuxai (truly a work of art, and especially captivating by night).
Vientiane has a reputation for serving the best croissants and pastries in all of Asia, and its many European-style coffee shops live up to that reputation. You'd be hard pressed to try them all, as you'll find one on every corner plus the middle of every block, but some of my favorites were Le Banneton, sweet hideaway See You Coffee for its friendly staff and delicious fresh juices and smoothies, and vegan-friendly Coco & Co for its flaky croissants, smooth espresso and vegan coconut ice cream. According to serious coffee aficionados, Coco's sister company Le Trio serves the best coffee in town, and its next door neighbor Suzette serves some of the best sweet and savory crepes (galettes) on earth.
Just like the crepes and croissants of Vientiane, this three-week taste of Laos leaves me hungry for more, but with my spirit refreshed by the peace and beauty of this lovely country.
* * *
Where to Stay
If you're looking for a good place to stay, here are some options:
Luang Prabang: Secret Pizza (find them on Airbnb) Same location as the pop-up restaurant. You'll have a gorgeous, spaciously designed room with mahogany floors, a big comfortable balcony, the most beautiful bathroom in Luang Prabang and kind owners Andrea and Li. It's a short drive out of town so you may want a scooter here; they also have a mountain bike you can borrow. Bonus for any of my fellow dessert-for-breakfast-lovers - if you're lucky, you can score leftover tiramisu and espresso for breakfast on Wednesday and Saturday mornings.
Vientiane: Bloom Boutique Hotel - small, well located, recently opened and beautiful.
Muang Ngoi: Riverview Bungalows - basic but comfortable with an unforgettable buffet breakfast.